Insurance Lines of Business
AGRICULTURE
Multi-peril crop insurance, crop hail, livestock risk protection and other agriculture risk management products, all offered through independent agents.
WORKERS' COMPENSATION
Insurance for employees injured or disabled in connection with their work, primarily focused on niche markets in the U.S.
PROPERTY
Insurance against large value commercial risks and difference in conditions coverage for various segments in the insurance market.
PROFESSIONAL LINES
Insurance against directors' and officers' liability, errors and omissions liability, employment practices liability, environmental liability and pension trust liability.
CASUALTY
Insurance against third party liabilities of clients ranging from sophisticated Fortune 1000 companies to middle market companies at lower attachment points.
HEALTHCARE LIABILITY
Insurance providing excess hospital medical professional and other third party liability coverage for non-profit & for-profit hospitals, academic medical centers and integrated healthcare delivery systems.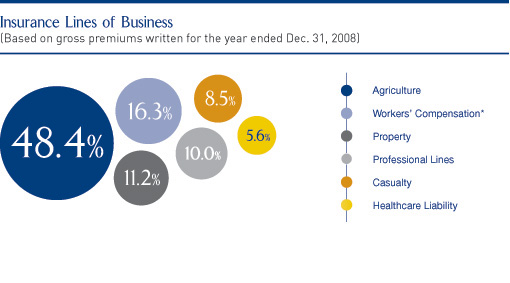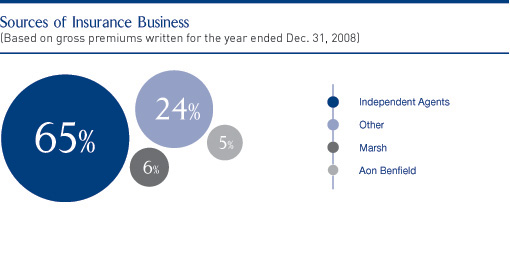 * As of February 2009, the Company ceased underwriting new workers' compensation insurance business.
Growth and diversification were the focus of our worldwide insurance operation in 2008, as we built additional specialty product capabilities, expanded our distribution channels and integrated ARMtech, our specialty crop insurance subsidiary. Our product lines extend across property, casualty, agriculture and healthcare liability, as well as several other specialty classes of business, enabling us to service small, medium and large client segments. We have further broadened our producer relationships across multiple distribution channels, accessing business through independent agents, wholesalers, and regional and large national brokers. This diversified portfolio, backed by strong capitalization, supports sustainable financial performance throughout market cycles.
Our insurance teams continue to deliver recognized value to our clients through responsive underwriting, risk management programs tailored to specific classes of business and risk exposures, and timely and consistent claims servicing. This is only possible through the dedication, experience and specialty knowledge of our seasoned professionals, who bring exceptional focus to each account, building lasting relationships with our clients and producers.
Many of our peers have been significantly impacted by the market turmoil in 2008. Endurance remains well positioned and will continue to offer our clients a strong balance sheet, excellent ratings, significant underwriting capacity and exceptional client service.